Lab 4 Connective Tissue
Objectives:
General anatomical considerations

Discuss differences in relative amounts of extracellular substances that are reflected in the classification of connective tissues.

Relate variations in extracellular substances to the function of the tissue being studied in terms of strength, deformability, elasticity, diffusion of nutrients, and other anatomic or physiologic features.

Morphology of connective tissue

Identify (with the light microscope) various formed intercellular substances in connective tissue in appropriately stained sections.

Identify the following connective tissue cells with the light microscope:

Fibroblasts

Macrophages

Lymphocytes

Mast cells

Plasma cells

Discuss the functions of those cells which are involved in the formation, growth, and structural integrity of connective tissue.
Connective Tissue: Slide List
31 loose connective tissue
10 adipose tissue
36 loose and dense connective tissue
32 macrophages
162 wall of cecum from a horse
33 macrophages / plasma cells
29 reticular connective tissue (lymph node of a dog)
37 dense regular collagenous connective tissue (bovine tendon)
38 dense regular elastic connective tissue (equine ligamentum nuchae)
Loose Connective Tissue - Glass slide #31
Intro to CT:
Animal connective tissues are enormously varied. All connective tissues can be divided into three classes of components: cells, proteinaceous fibers, and amorphous ground substance. The various functions of connective tissue can be expressed as variations in the quantity and properties of these constituents. This example is from subcutaneous CT of a calf. As you study tissues and organs, you should contemplate how the relative proportions of the connective tissue constituents subserve the function of the tissue/organ under consideration.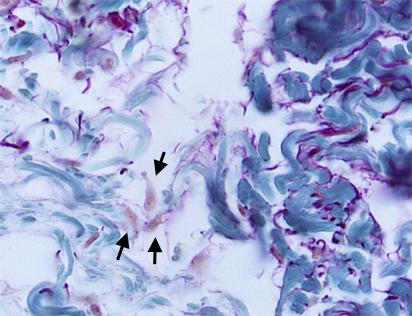 Topic: Intro to CT
In this image collagen fibers are blue, elastic fibers are purple, and cells appear gray/purple (black arrows). White space is not artifact - it would have been filled with amorphous ground substance. Note that the left half of the above image has considerably fewer fibers and more ground substance than the right half. Arrows indicate several fibroblasts in the extracellular matrix.
Areolar CT:
It is common to find adipose tissue mixed into loose irregular connective tissue. Adipose tissue per se is one type of connective tissue. You may wish to review adipose tissues on glass slide #10 and the button/link above. Areolar CT is a common term for loose irregular connective tissue mixed with significant amounts of adipose tissue. Fibroblasts are found in relatively open extracellular space and collagen fibers are few and small diameter. As seen here, the adipocytes within adipose tissue have very little support from collagen or elastin, extracellular fibrous proteins. Reticular fibers are present in adipose tissue, but not stained in this preparation.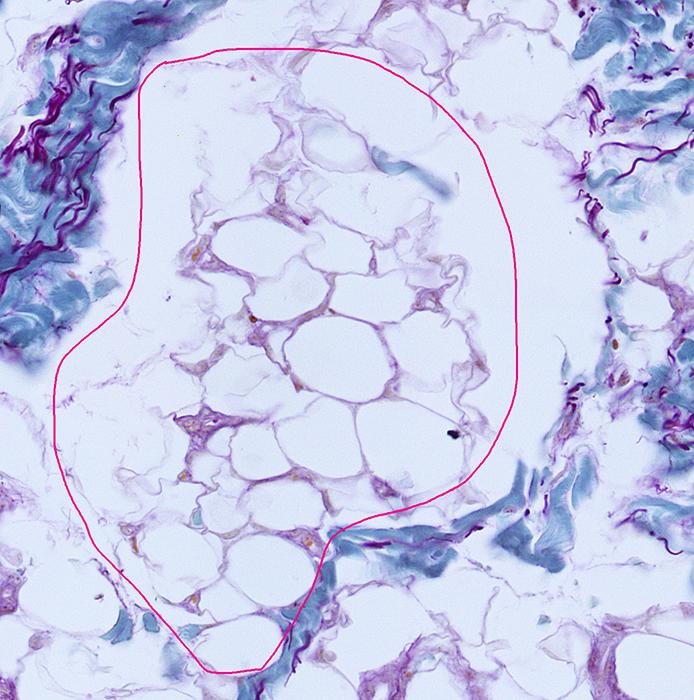 Topic: Areolar CT Circled in red, a small group of adipocytes.
Loose Irregular CT:
Loose irregular CT can vary significantly in appearance. This example shows relatively thin (blue) collagen fibers with plenty of space for amorphous ground substance. However, even significantly greater densities of fibers can be classified as 'loose' CT if the collagen fiber diameters are thin.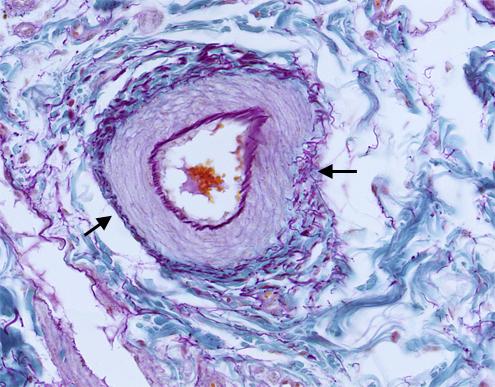 Topic: Loose Irregular CT
Black arrows indicate an artery. It is loosly anchored within loose irregular connective tissue. The blue collagen fibers are relatively thin and significant space exists between them. The purple elastic fibers are prominent in the outer layer (tunica adventitia) of the artery.
Dorsal Body Wall of the Rat - Glass Slide #10
Common Adipose:
The slide/image we used to study adipocyte cytology is a good one to also understand adipose tissue. Without special stains fat cells look like 'cellular ghosts' with a distinct plasma membrane surrounding an empty cytoplasm. The adipocyte contains a thin rim of cytoplasm surrounding a single fat droplet. The nucleus of the cell is displaced to one side giving the cell a signet ring appearance. Many adipocytes together can give the visual impression of chicken wire. Locate an aggregate of large, pale staining fat cells on glass slide #10. They are typically found near the edges of the section.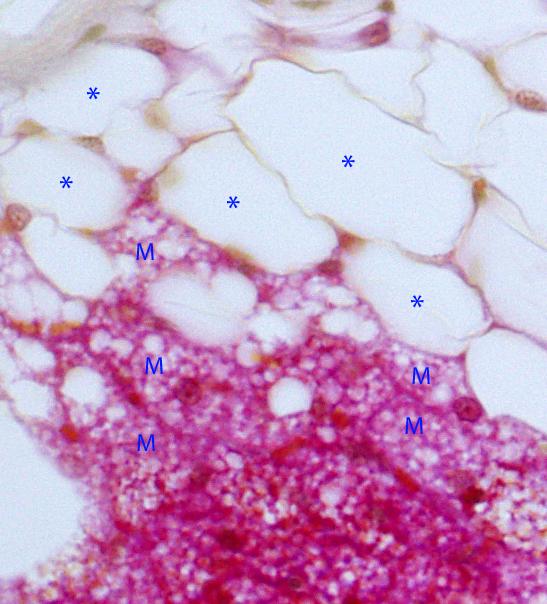 Topic: Common Adipose
Common adipocytes are present near the top of this image. Asterisks in lipid droplet. Multilocular adipocytes (M) have much smaller lipid inclusions and make up the tissue commonly known as 'brown fat'.
Multilocular Adipose:
Multilocular adipose tissue is not degraded by fasting, is found in locations that may function in protecting or cushioning adjacent areas, and also functions as part of the heat regulating mechanism of the body. The appearance of the cells is quite distinctive, yet the tissue is rather unremarkable in terms of other structural features.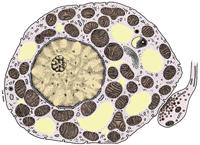 Topic: Multilocular Adipose
Multilocular adipose tissue. Note the central nucleus, multiple fat droplets, and abundant mitochondria. A sympathetic nerve ending is shown at the lower right. Much of the acidophilic staining of this tissue is due to mitochondria in the cytoplasm. Most of glass slide #10 consists of multilocular adipose tissue.
Thick Skin of the Horse - Glass slide #36
Dermis of thick skin:
Skin is composed of the epidermis, dermis, and hypodermis. On glass slide 36 the wide blue-staining center band is part of the dermis, where collagen fibers are present in aggregates of fiber bundles. Identify these fiber bundles in their cross-sectional and longitudinal aspects. Within some of the bundles of collagen elongate nuclei of fibroblasts, accompanied by a scant amount of cytoplasm, can be identified. In the ground substance find fibroblasts. A rather large population of purple-stained elastic fibers can be found scattered among the collagen fibers. Depending on the region of skin from which it is taken, dermal CT can be either loose or dense. This thick skin contains dense irregular CT.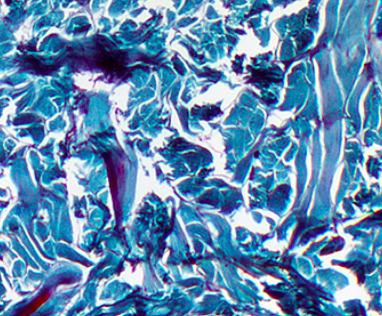 Topic: Dermis of thick skin
Both longitudinal and cross sectional profiles of collagen fiber bundles are evident in the above image.
Superficial dermis:
Many structures are found within the connective tissue of the dermis. The superficial dermis contains hair folicles, sebaceous glands and sweat glands all embedded in the dense irregular CT. The pink-staining tissue at the bottom of the zooming image is skeletal muscle of the cutaneous trunci. Deep to this muscle (not visualized here) is the loose CT of the hypodermis.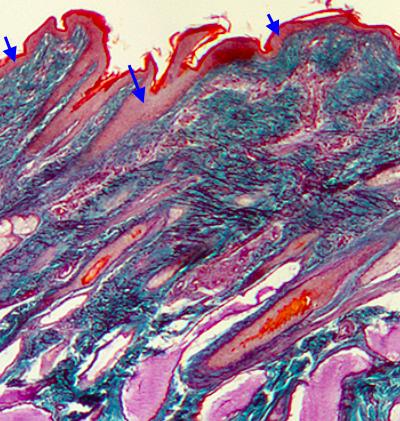 Topic: Superficial dermis
Blue arrows indicate the acidophilic staining of stratified squamous epithelium. The structures deep to that surface include hair, hair folicles with associated sebaceous glands, and sweat glands. Triple stain = blue collagen. Purple fibers = elastic fibers.
Uterine Endometrium - Glass Slide #32
Loose irregular CT:
In this section of a uterus from a bitch, the area just deep to the lumen consists of loose irregular connective tissue. Recall that this region contains many active macrophages that are actively removing red blood cells and debris after an estrus cycle.
Macrophages:
In this section of a uterus from a bitch, the area just deep to the lumen contains many active macrophages. Find an area on your glass slide #32 that is similar. Macrophages are motile cells that can migrate through the ground substance of the connective tissues. In addition to ingesting debris, they are also capable of communicating with other blood-bourne cells via release of chemicals known as cytokines. In cases of infection, connective tissues become a major battleground between pathogens and the body's defenses, including mobile blood cells and the immune system. Macrophage morphology can vary considerably, making them difficult to identify unless they have ingested material. However, cells with a frothy or vacuolated cytoplasm within loose connective tissue are often macrophages. Other macrophages are presented in a following page.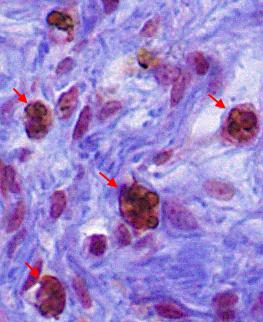 Topic: Macrophages
Red arrows indicate active macrophages. These contain phagocytized red blood cells, but almost any kind of cellular/organic 'waste' may be encapsulated, degraded, and recycled. Macrophages have diverse morphologies and roles, depending on their location.
Lysosomes:
Lysosomes are membrane-bound capsules of hydrolytic enzymes. Definitive identification of lysosomes can be accomplished only by histochemical demonstration of one or more of the acid hydrolases which they contain. The presence of lysosomes can be inferred from cytoplasmic vacuoles that contain phagocytized cells or particulate matter.
Topic: Lysosomes
In transmission electron micrographs, primary lysozomes are smaller and more electron-dense. The upper dark sphere is a primary lysosome. Two secondary lysosomes are below the primary lysosome.
Inflammatory cells - Horse Cecum - Glass slide #162
Orientation:
The wall of the cecum can be divided into several layers. The innermost layer consists of a simple columnar epithelium overlying a very cellular loose c.t. called the lamina propria and a thin layer of smooth muscle called the muscularis mucosae. The connective tissue in the cecum of this specimen has an abnormal number of migratory inflammatory cells because of a long-standing, chronic inflammation. The submucosa of the organ consists of irregular connective tissue that is moderately loose. In the lamina propria of the cecum on glass slide 162, find cells similar to the examples shown here.
Please note: The staining of horse inflammatory cells is different from most other species. Learn these with the understanding that the staining details represent a special case.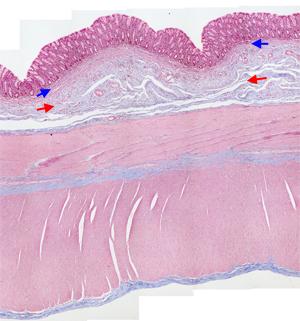 Topic: Orientation
Blue arrows indicate the approximate position of the lamina propria. Red arrows indicate the loose connective tissue in the submucosa of the cecum.
Mast Cells:
The mast cell in the horse is a large cell with a profusion of brilliant red cytoplasmic granules and a round, heterochromatic nucleus. Note that the granules are smaller than those found in eosinophils. In other species the secretion granules of mast cells are basophilic - typically staining intensely purple/blue.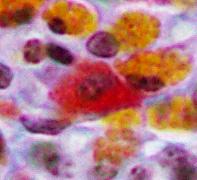 Topic: Mast Cells
The red-staining cell is a mast cell.
Eosinophils:
Eosinophil staining is also unique in the horse. Their cytoplasmic granules are atypically large - much larger than in other species. The granules may initially stain pink but in our examples most have transformed to orange.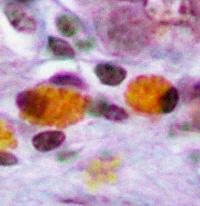 Topic: Eosinophils
Some staining variation is possible. Most eosinophils have transformed from pink to orange. All have very large cytoplasmic secretion granules.
Plasma cells:
Plasma cells (p) can be recognized by their eccentric, round, heterochromatic nuclei. The cytoplasm of the plasma cell is not stained as distinctly basophilic as in those observed in the previous laboratory session because a different stain was utilized. Large lymphocytes are also frequently observed in the lamina propria of this inflamed tissue. Their nuclei are rather pale stained and the cytoplasm is typically not stained. In some instances you may not be able to determine if a certain cell is a plasma cell or a large lymphocyte. This is not an uncommon problem since lymphocytes are the precursors of plasma cells and several intermediate stages exist in the conversion from a lymphocyte to a plasma cell.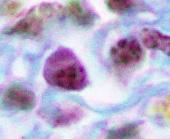 Topic: Plasma cells
Note the nuclear staining pattern and typical Golgi vacuole.
Connective tissue cells - Lymph Node; Glass Slide #33
Macrophages:
We examined plasma cells in the lymph node but other important cells are also present. Try to find cells with irregular profiles and vacuoles in the cytoplasm. The lymph node contains significant numbers of macrophages.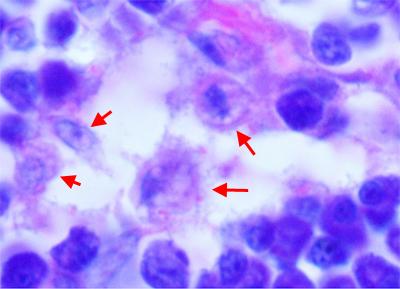 Topic: Macrophages
Red arrows indicate macrophages.
Macrophages:
These macrophages have very little stained material in their cytoplasms. With heavily-stained plasma cells all around they are easily obscured/overlooked.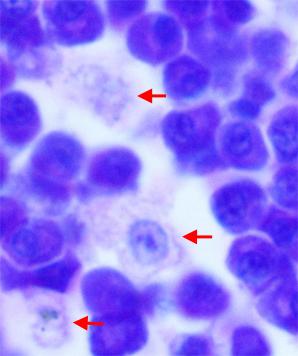 Topic: Macrophages
Red arrows indicate macrophages.
Reticular C. T. - Glass slide #29
Reticular fibers:
Reticular is associated particularly with hemopoietic (blood forming) tissues and with organs of the immune system. However, reticular fibers provide support in other organs, as well. This image shows part of a lymph node stained using a silver technique that demonstrates the characteristic component of reticular connective tissue, the reticular fibers. These fibers consist of very small collagen fibrils embedded in a material that binds reduced silver. The very dark interconnecting lines are silver impregnated reticular fibers. A study of glass slide 29 reveals little cytologic detail in the lymphocytes of the tissue. Remember that the reticular fibers form a three-dimensional structure within which the cellular elements of the lymph node are distributed.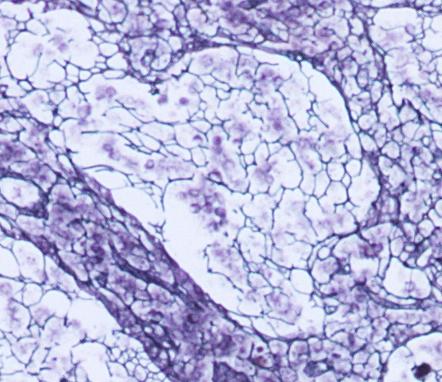 Topic: Reticular fibers
Reticular fibers are indicated by dark lines. Always present, these connective tissue components are only visible following specialized staining techniques.
Adipose tissue:
Adipose tissue has a fine investment of extracellular reticular fibers.
Tendon - H&E stain - Glass slide #37
Longitudinal section:
This is a micrograph of a longitudinal section of a tendon. Note the parallel arrays of collagen fibers (pink stain on H&E) arranged in bundles and fascicles. Collagen fiber bundles within each fascicle are indistinctly outlined by the nuclear profiles of fibroblasts. On glass slide 37, note the loose CT around the fascicles that binds the tendon into a cohesive entity. The longitudinal section of the tendon shows the fibroblasts in a longitudinal orientation delineating the collagen fiber bundles and fascicles.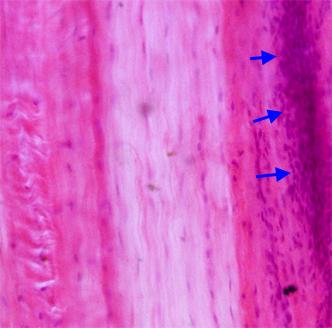 Topic: Longitudinal section
Note: this section was stained with H&E. Longitudinal section. Blue arrows indicate a longitudinal channel that may contain modest vasculature. Notice that some variation in the collagen staining intensity and the fiber directions may be seen.
Tendon - cross sect.:
In cross section, the individual fibers of this tendon are visible. Dark spots in the fibers are the compressed nuclei and cytoplasm of fibroblasts. Surrounding individual fasicles are irregularly-oriented collagen fibers that bind the longitudinal fibers together.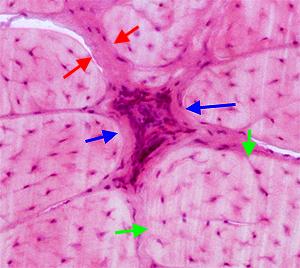 Topic: Tendon - cross sect.
Cross sectional view. Pale pink areas (green arrows) are dense collagen fibers. Blue arrows indicate a cross section of an interstitial cellular area containing modest vasculature. Continuous with the vascular areas are irregularly arranged fibers (red arrows) that bind regularly arranged fibers together.
Ligamentum Nuchae - Glass slide #38
Longitudinal sect.:
Glass slide #38 demonstrates an elastic ligament cut in longitudinal and cross sections. Parallel arrays of elastic fibers are evident in both sections. Glass slide 38 is triple-stained. In the cross-section image, note the red-stained elastic fibers bound together by a delicate network of loose c.t. The cells present in the sections are fibroblasts.
Cross section:
Glass slide #38 demonstrates an elastic ligament cut in longitudinal and cross sections. Parallel arrays of elastic fibers are evident in both sections. Glass slide 38 is triple-stained. In the cross-section image, note the red-stained elastic fibers bound together by a delicate network of loose c.t. The cells present in the sections are fibroblasts.