Lab 5 Muscle
Objectives:
Smooth muscle

Correlate the general distribution of smooth muscle in the body with the function(s) it subserves.

Describe general morphologic features of smooth muscle.

Identify smooth muscle in cross and longitudinal sections in tissues prepared for light microscopy.

Develop a familiarity with the mechanism of contraction of smooth muscle.

Skeletal muscle

Describe the general morphologic features of a muscle fiber.

Identify skeletal muscle in cross and longitudinal sections in tissues prepared for light microscopy.

Develop a familiarity with the mechanism of contraction.

Recognize major ultrastructural features of skeletal muscle.

Develop an understanding of the architectural arrangement of skeletal muscle fibers into muscles and their relationship to the skeleton of the body.

Cardiac muscle

Describe the general morphologic features of a cardiomyocyte (heart muscle cell).

Identify cardiac muscle in cross and longitudinal sections in tissues prepared for light microscopy.
Slide List
162 smooth muscle - cecum
118 smooth muscle - uterus
144 Tongue (skeletal muscle)
26 Muscle Spindle
16 Porcine Heart
Horse Cecum - Glass slide #162
Tunica muscularis:
The layers of the cecum will be studied in more detail during the spring semester. For now, we are interested in particular areas consisting of smooth muscle. The tunica muscularis of the cecum consists of two layers of smooth muscle: an inner circular layer that narrows the lumen when it contracts, and an outer longitudinal layer that shortens the tubular organ when it contracts. In a cross section of the wall of the cecum (the lumen is a circle), the muscle cells of the inner layer of the tunica muscularis will be longitudinally oriented as seen in this image. Find this large area on glass slide 162. Note: (a) elongate nuclei, some of which may be in a contracted state; (b) arrangement of nuclei in adjacent smooth muscle cells; and (c) endomysium associated with each smooth muscle cell.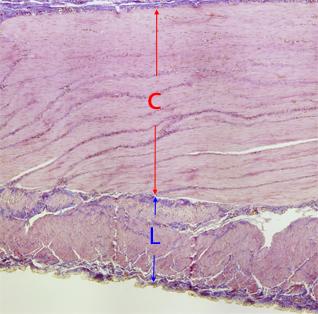 Topic: Tunica muscularis
In this cross section of the organ, inner circular muscle (red 'C') displays the cells' nuclear profiles in longitudinal section. At the same time, the organ's outer longitudinal muscle layer (blue 'L') displays smooth muscle cells in cross section.
Muscularis mucosae:
The muscularis mucosae is a subepithelial sheet of smooth muscle that is responsible for minor movements of the epithelium lining the intestine. In this example from horse it is relatively thick. Note the presence of smooth muscle cells with either longitudinal or circular orientation.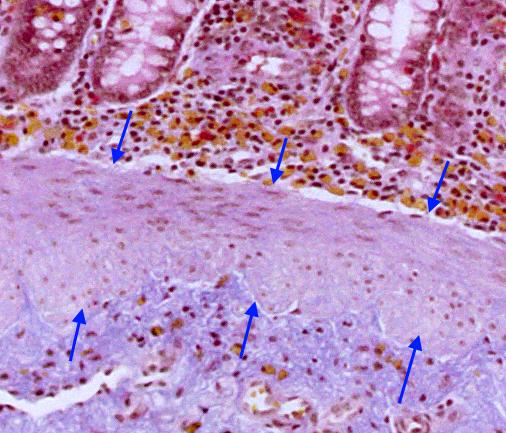 Topic: Muscularis mucosae
Blue arrows indicate the smooth muscle of the muscularis mucosae.
Bovine Uterus - Glass slide #118
Myometrium:
The tunica muscularis (myometrium) of the uterus, also consists of two layers of smooth muscle, an inner circular layer and an outer longitudinal layer. Find the inner layer and note the orientation of the muscle cells (longitudinal). Note the spindle shape nature of each muscle cell, as seen in longitudinal sections. In the outer layer of the uterus observe muscle cells appear in cross section. In the uterus of the cow, the endomysium is more prominent, and the sarcoplasm of each muscle cell stains less intensely. Note arrangement and distribution of nuclei in the smooth muscle cells. Numerous blood vessels are present between the two layers of muscle.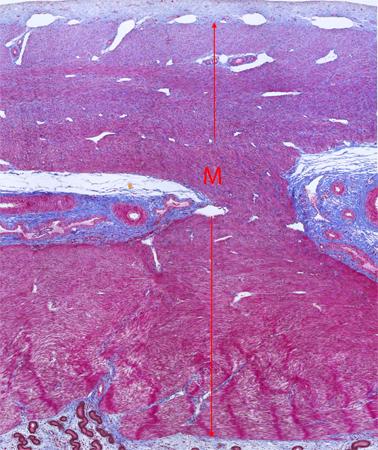 Topic: Myometrium
Thick smooth muscle in this section is indicated by the red arrows.
Radial Artery and Vein - Glass slide #61
Tunica muscularis:
Arteries contain circumferential smooth muscle, which is responsible for their ability to reglate blood flow and blood pressure. This large muscular artery contains a good example of smooth muscle tissue.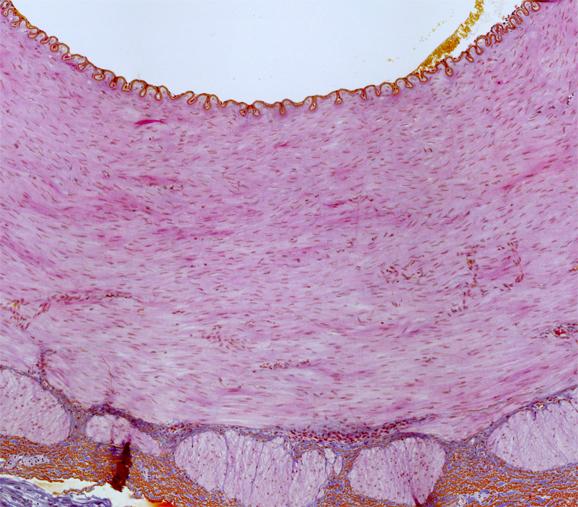 Topic: Tunica muscularis
In the large arteries smooth muscle is oriented circularly, hence this cross section of artery displays mostly longitudinal muscle profiles.
Uterine Smooth Muscle - Oil immersion - Glass slide #118
Muscle detail:
In this example from the bovine uterus, typical smooth muscle morphology is displayed. Nuclei are elongated and cell bodies have a thin fusiform shape. Thin collagen fibers are faintly stained blue and interdigitate with the muscle cells. The presence of collagen is particularly evident in cross sections of smooth muscle from other regions of this glass slide.
Canine Tongue - Glass slide #144
Skeletal muscle:
The major portion of the tongue is comprised of skeletal muscle oriented in three different planes: horizontal (transverse), vertical, and longitudinal. In this image they are found beneath the tongue's specialized dermis (blue-staining C.T.). The three orientations are evident in this image at low magnification. At higher magnification and using your slide, identify and study skeletal muscle in each orientation.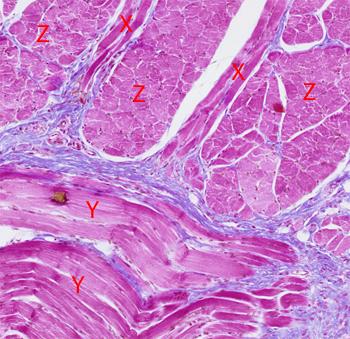 Topic: Skeletal muscle
This example of skeletal muscle fibers shows them oriented in all three axes, X, Y, and Z - indicated in red.
Skeletal Muscle - Glass slide #144
Muscle banding:
Using the oil immersion lens, study the banding in skeletal muscle. Your section should be similar to that seen here, with darker A-bands alternating with more lightly stained I-bands along each myofibril. In examples that are more contracted, the A-bands appear to be bisected by a narrow light H-band. Here, the I bands are bisected by a light purple line, the Z-line (also called the Z-disc). Locate these bands on your slide.
What do each of these bands represent?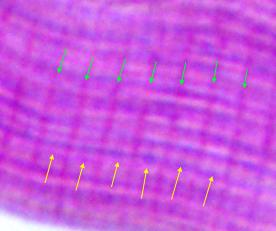 Topic: Muscle banding
Extended muscle: yellow arrows = Z-lines, which are relatively far apart; green arrows = A-bands.
Muscle cross sect.:
Identify endomysium, perimysium, and epimysium (not seen in this image). Note the stippled appearance of the myofibrils in cross-section and the peripheral location of the nuclei. The cross section in this image demonstrates typical endomysium - the connective tissue between individual myocytes.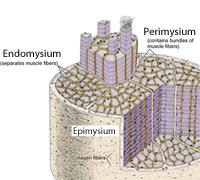 Topic: Muscle cross sect.
Schematic of connective tissue investing muscle.
Muscle Spindle - Glass slide #26
Oblique section:
There are two sections on glass slide 26. One section consists of skeletal muscle fibers oriented longitudinally while the other section is comprised of skeletal muscle fibers in cross section. Identify the respective fibers and review their morphology. Muscle spindles are specialized structures found in skeletal muscles. The muscle spindle is an encapsulated sensory organ which consists of modified skeletal muscle fibers and associated nerve endings. Muscle spindles sense the degree of stretch (change in length) in a muscle.
Striations in the intrafusal fibers are visible in this somewhat oblique section. Space around the fibers is fluid filled, maintained by the capsule of collagen and fibroblasts. Innervating neurons are not clearly visible in this example.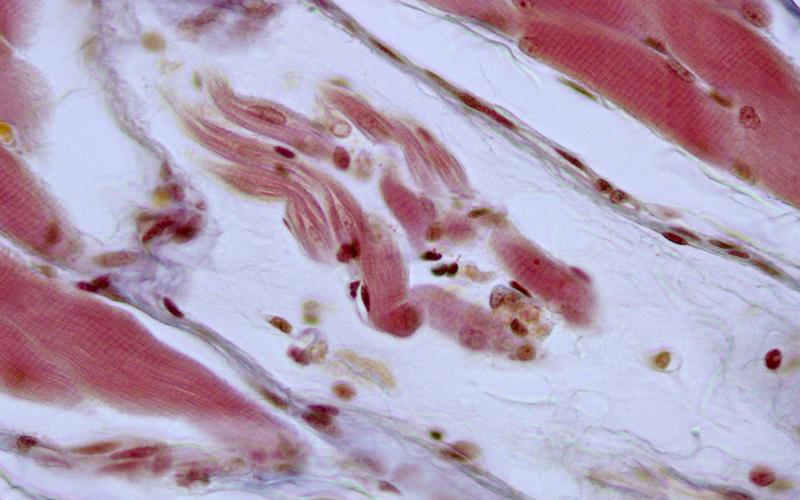 Cross section:
In cross section the capsule, muscle fibers (M), and associated neurons (N) are visible. Try to find these components in muscle spindles on your glass slide. Spindles will not be visible in all cases.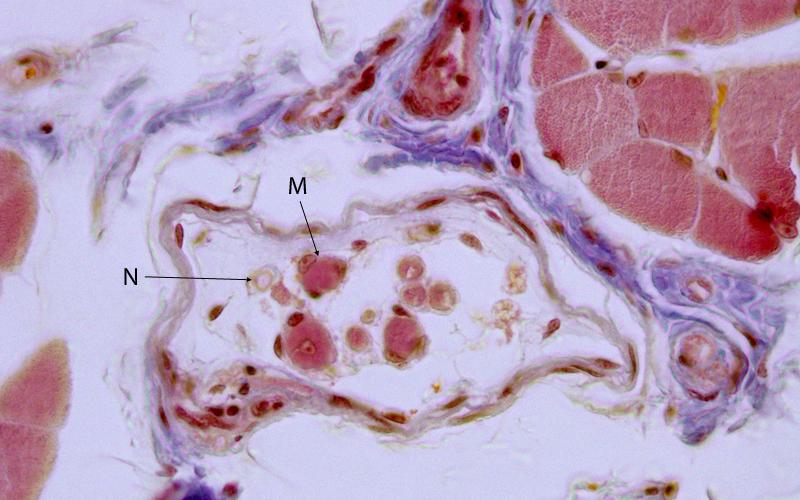 Porcine heart detail - Glass slide #16
The annulus fibrosum into which the A/V valve is anchored is dense collagenous connective tissue in the pig, though larger species may also have cartilage or ossified deposits. In this example the stromal collagen fibers of the myocardium are seen blending continuously with those of the annulus. Recall that this is one of three components of the skeleton of the heart.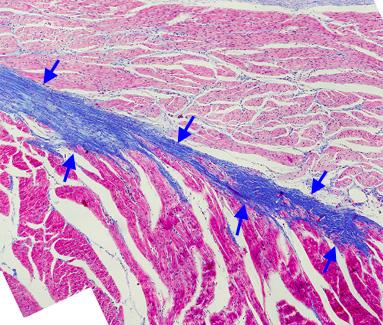 Blue arrows = collagenous C.T. of the annulus. Cardiac muscle is above and below.
Long. section:
Typical cross striations are visible in longitudinal sections of cardiac muscle. Identify them here and in your glass slides. Intercalated discs are best seen between ventricular cardiomyocytes and are most prominent when aligned with the optical axis of the microscope.
Intercalated discs:
Below the annulus are longitudinal fibers of the ventriclar myocardium. Many intercalated discs are visible - the location button in the sidebar navigates to a region in which prominent intercalated discs are indicated by gray arrows. In addition to this specialization, branching cardiac myocytes are visible elsewhere in longitudinal section.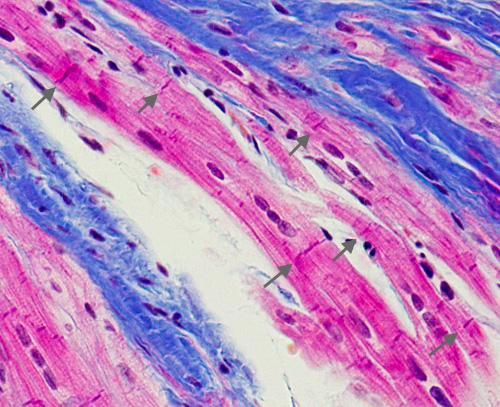 Topic: Intercalated discs
Gray arrows = intercalated discs