Agents of Disease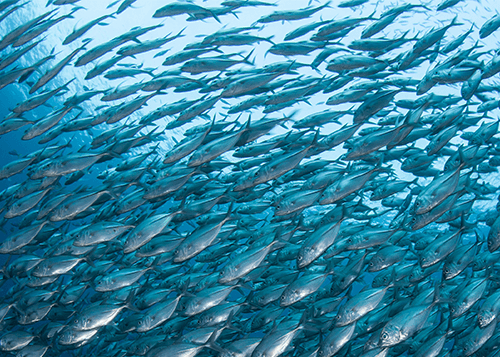 Aquatic Health
By Dr. Alex Primus, Dr. Tom Molitor, Dr. Maxim Cheeran, & Dr. Amy Kinsley
With help from Kelly Vallandingham & Hannah J. Bakke
---
INTRODUCTION
Aquaculture is the culture, or confined rearing, of an aquatic organism for any part or all of its life cycle. This includes the culture of finfish, shellfish, aquatic plants or algae, and even a few non-fish vertebrates. Aquaculture is one of the fastest growing agricultural sectors globally and has been for the last several decades. Aquaculture has been rapidly expanding in an attempt to address the global population expansion. An increased demand for seafood products cannot be sustained through fishing wild populations.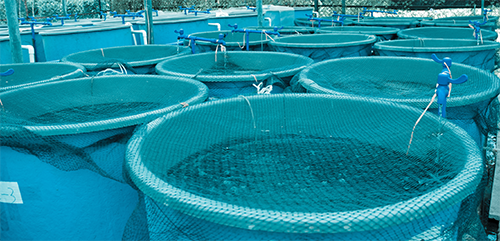 China produces ~60% of all global aquaculture products, making them the largest aquaculture producer in the world. For comparison, the US produces less than 1% of the global aquaculture harvest. Carp and Catfish are the most commonly cultured fish globally. Catfish is the biggest aquaculture product in the U.S. and Molluscs are the fastest growing. The U.S. has a plethora of land and a vast amount of water but does not produce a lot of fish via aquaculture; we import most of the seafood we consume. This US trade deficit is approximately $15 Billion dollars.

Two of the biggest challenges for the aquaculture industry are infectious disease management and environmental sustainability. This is not to say that aquaculture in general is unsustainable. It just means that there is a good deal of variation in the sustainability of certain aquaculture practices. Some of the practices that are not particularly sustainable are directly related to fish health management. Developing and promoting better tools and management practices for fish health could greatly improve the sustainability of aquaculture.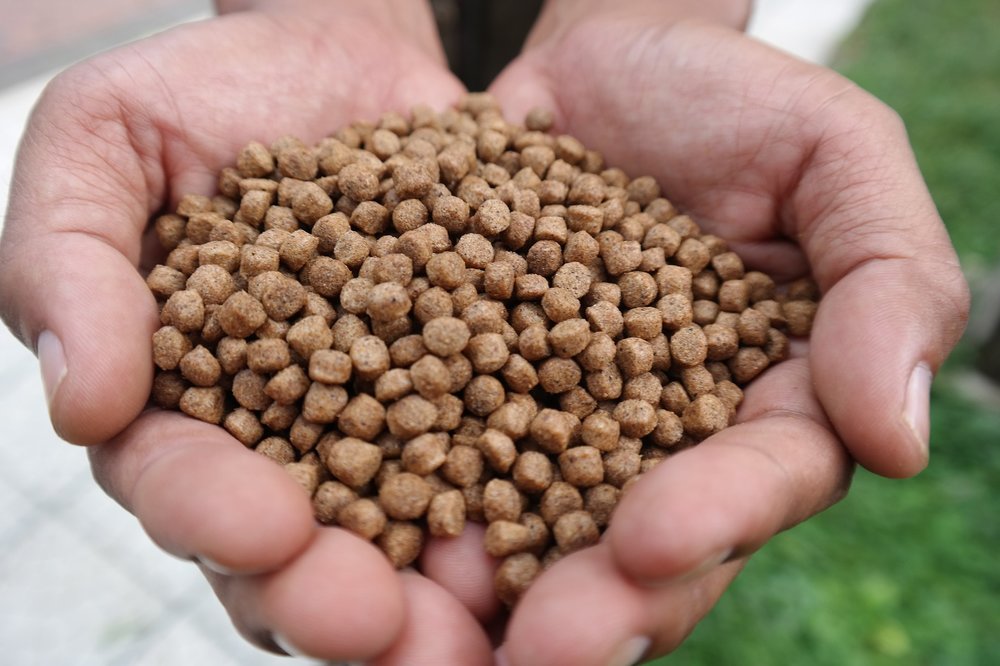 As you work through the learning modules in this chapter, you will learn how these various aquaculture systems are managed through a herd health approach. When most people hear either "herd health" or "population medicine," they think of terrestrial species like cattle or sheep. Instead of focusing on an individual, the whole herd is managed as an entity. Whether working with cattle or fish, similar concepts and ideas can be applied when addressing production health.
In addition, there are a few concepts that are particularly important to think about when considering fish health; these include the importance of stress and water quality on fish health, the role that opportunistic pathogens play in fish health, and the unique transmission dynamics of pathogens in water.
The general health of a fish – which includes things like the immune status of a fish and its ability to fight off an infection or infestation – is highly dependent on stress, environmental factors, and in many cases water quality. Although the general health of terrestrial animals is dependent on environmental conditions, this is even more important with aquatic animals. For fish, water quality is extremely important. In aquaculture environments, poor water quality is a major source of mortality. Poor water quality can directly lead to mortality, or it can be the initiating factor in a more complex disease scenario. If there is only one thing you take away from this chapter, it is this: The most important factor to consider when dealing with fish health is water quality. The ideal water quality parameters are related to the species being cultured. Of particular importance are temperature, dissolved oxygen, pH, ammonia, nitrite, nitrate, hardness, alkalinity, other dissolved gases, contaminants, etc. Although maintaining appropriate water quality parameters can be challenging, it is vital for keeping fish healthy.
There are many pathogens out there waiting to take hold of fish with compromised health. This is one reason even minor stressors (e.g. poor water quality) can be so detrimental to fish health. Pathogens are often informally categorized as being either Primary Pathogens (PP) or Opportunistic Pathogens (OP). PP are pathogens that can cause morbidity/mortality even in fish that are completely healthy otherwise. OP are pathogens that do not cause significant morbidity/mortality in a completely healthy fish but can cause morbidity/mortality in a fish whose health is already compromised in some way (e.g. a fish that is stressed from poor water quality).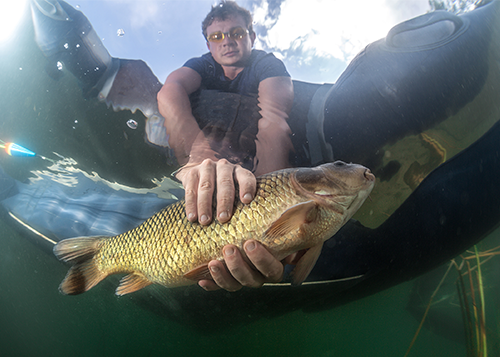 Another reason poor water quality is detrimental to fish health is due to transmission dynamics in aquatic systems. Transmission of disease in terrestrial species is often based on direct contact, fecal-oral route, specific vectors or fomites. Although some pathogens can spread via air, the distance of this spread is typically relatively limited, unlike the spread of pathogens via water.
It has been shown that many fish pathogens survive in the water for extended periods of time. Currents and subtle water movements allow pathogens to travel a significant distance between fish. Some fish pathogens, such as parasites or certain bacteria, are even capable of propelling themselves through the water. In addition, many parasitic fish pathogens have complex life cycles that include other aquatic organisms (e.g. snails) which can be spread out in an aquatic habitat. As a result, many fish are constantly contacting pathogens in the water, and therefore keeping fish healthy requires strict multifaceted preventative measures.
These types of preventative measures, and more like them, will be discussed further in this chapter. This chapter will not cover every known disease affecting aquaculture. The pathogens discussed in this eBook are some of the more common diseases among fish species. By the end of this chapter, you will be more knowledgeable when approaching situations involving aquaculture and fish health.
Chapter Organization
The aquaculture chapter is made up of learning modules created by University of Minnesota veterinary students that focus on various diseases affecting fish health. Several questions are included in each module that will test you on the material and act as a guide for the key points of each learning module. The remainder of the chapter is organized into three major sections that cover some key pathogens of fish belonging to certain taxonomic groups. These sections include the following:
Common Pathogens

- These learning modules focus on diseases that affect multiple species of fish

Salmonids

- These modules look at pathogens that may affect other species but Salmonids are the primary species of concern

Target Species

- Pathogens that primarily target specific species of fish that are not Salmonids
It should be noted that this chapter was not designed to give a comprehensive understanding of fish heath management. Such a resource would need to include significantly more information on some of the foundational aspects of fish health management such as water quality, stress, biosecurity, nutrition, and diagnostics. The information provided here, however, should provide a good introduction to some important fish pathogens including some specifics about these pathogens, disease characteristics, and other relevant material. Included in the chapter are questions that will test you on the material and act as a guide for the key points of each learning module.
---
COMMON PATHOGENS
The common pathogens included here cause diseases affecting multiple species of fish in a variety of environments. These are the "usual suspects" you will think of when presented with diseased fish. The following student-created modules present common diseases in fish and the agent causing those diseases.
Viral hemorrhagic septicemia
By: Conner McLaughlin, Karyn Burritt, Kaleigh Mercer, Ngoc Tran, Sarah Knowles, and Sarah Massarani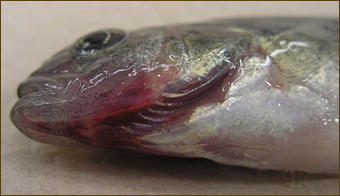 History: Viral Hemorrhagic Septicemia (VHS) is an infectious and deadly fish disease caused by the viral hemorrhagic septicemia virus. Different strains occur in different global regions and affect different species. VHS, or a VHS-like disease, was first recorded in 1938 and was called Nierenschwellung Syndrome. By the 1950's, there was recorded evidence of the infectious component but specific etiology remained unknown. VHS was first isolated on a trout tissue culture in 1965 and in again in wild fish by 1979. By 1988, VHS was found outside of Europe on the coast of the United States.
Economic and Policy Impact: VHS is reportable at both an international level to World Organization for Animal Health and a National level to USDA - Department of Agriculture Animal and Plant Health Inspection Service (APHIS). Costs associated with VHS affect both regulation and production. Regulation costs accrue through meeting regulatory requirements and, if an industry does not meet those requirements, through costs of action against that industry. Production costs manifest through the risk management of production populations.
Virus: VHS is in the order Mononegavirales, the family Rhabdoviridae, and genus Novirhabdovirus. There are many different strains of VHSV, and they are usually specific by region. VHSV is an enveloped, negative-sense RNA virus with a sequenced genome of ~9-11kb.
Transmission: Transmission of VHSV is both enzootic and epizootic but is not zoonotic. Reservoirs of the disease are clinically ill fish and asymptomatic carriers which shed the virus primarily in urine and reproductive fluids. Asymptomatic carriers appear to be life long with only intermittent shedding. VHSV is transmitted in water or via direct contact and this includes the predation of infected fish. In addition, piscivorous (fish-eating) birds act as a mechanical vector in the spread of the virus. Virus survival outside of host varies by strain - one marine isolate remained infectious for more than ten months.
Epidemiology: Much of the infection is subclinical. Depending on species and region, up to 17% of a given population was seemingly healthy during infection. Clinical disease occurs at any age but is more likely in the young. VHSV is an opportunistic pathogen; progression is often associated with an increase in a variety of stressors. These stressors include colder than normal water (seemingly primary), the pursuit and harassment by predators, and nutritional deprivation. Reported mortality varies greatly depending on environment and species, but is generally found to be quite high with a range of 50-100%.
The Great Lakes strain (IV-b): VHSV was first isolated in the Great Lakes region in 2005. Later verification clarified it was present by 2003 in a subclinical form until the increased infection pressure caused the die-offs detected in 2005. The common theory of introduction of the virus is thought to be due to the expansion of the great lakes region through ship ballast water, shipping and recreational boating activity, and the unintentional use of infected bait fish. However, these proposals are called into question by Bain MB, et. al., who state, "currently no data to corroborate a primary role of ships in introduction or dispersal of VHSV...Obvious fish die-offs have been the de facto method for detecting pathogen presence...does little to inform options for prevention and pathogen dispersal by ships and other vectors"
Unfortunately, continued expansion reveals persistent mass mortality events:
2000-2004: round gobies, mummichog, three spined stickleback, striped bass, & brown trout in eastern Canada

2005: Freshwater drum in Lake Ontario, Canada

2006

Gizzard shad in St. Clair River and associated canals in Lake St. Claire and the Detroit River, MI

Yellow perch and muskellunge in Lake St. Clair & Detroit River, MI
The geographic expansion and discoveries of new vulnerable species continue. As of 2008, 28 species (from 12 different families) of wild fish were regulated by the USDA due to VHSV. Globally, approximately 80 species have been shown to be vulnerable to VHSV infection.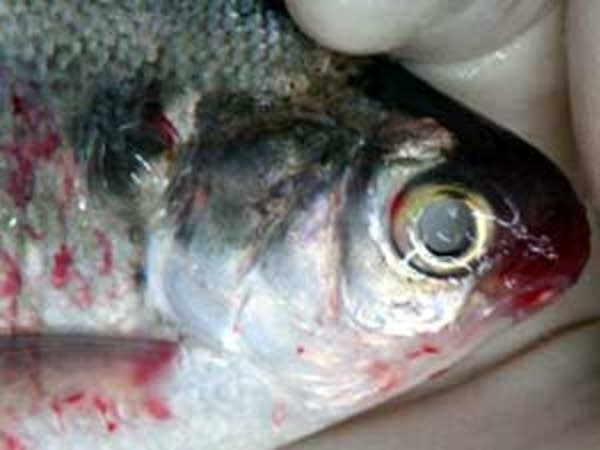 Clinical Signs: Hemorrhaging is a common clinical sign of VHSV, although massive hemorrhaging is uncommon. External hemorrhaging occurs at the base of fins, dermal petechiae, and periocular region while internal hemorrhaging affects the organs. Other common signs that occur are exophthalmia (bulging eyes), pale gills, bloated abdomen, dark body color, and fluid in the body cavity. In addition, clinical signs of VHSV infection may manifest as severe congestion and pallor of internal organs such as the kidney, spleen, liver, or gastrointestinal tract. The internal membrane of the swimbladder can thicken and budding of fluid-filled vesicles may occur. Acute infection may appear as lymphopenia and pertinent behavior changes to note are lethargy, and abnormal to erratic swimming. Chronic infection manifests as spiraling or flashing. Flashing is when a fish looks as if it is scratching itself on substrate, rocks, the sides of a tank, etc. Fish can become carriers of VHSV and offer no signs of disease. One must also keep in mind that other agents of disease may cause similar clinical signs to VHSV.
A differential list should include:
Spring Viremia of Carp: Virus:

Rhabdovirus carpio




Pale gills

Exophthalmia

Petechial hemorrhages of skin

Erratic swimming
Infectious pancreatic necrosis: Virus: Infectious pancreatic necrosis virus




Darkened pigmentation

Distended abdomen

Pale liver

Hemorrhage
Motile Aeromonas Septicemia: Bacteria: Aeromonas

hydrophilia




Septicemia

Distended abdomen

Exophthalmia

Hemorrhage of internal organs
Diagnostics: VHSV can be differentiated from similar agents of disease through a two stage method of diagnosis. In stage-1 the presumed virus is cultured in fish cells grown in a lab. Presence of the virus is indicated by the change or destruction of cells seen via microscopy. In stage-2 material is gathered from lab-infected cells and original infected tissue which is prepared and assayed by reverse transcriptase-PCR specific for VHS IV-b.
Other, less common diagnostics can be performed. Non-definitive methods use electron microscopy (EM) or through the pathology of either gross, clinical, histologic signs. More definitive methods use immunohistochemistry (IHC), serology, or virus gene probes. IHC detects VHSV in macrophages and melanomacrophages. Serology can be performed through a plaque neutralization test, immunoblot, fluorescent antibody test, ELISA, or through sequence analysis. Finally, virus gene probes are used to detect complementary DNA or viral ribonucleic acids.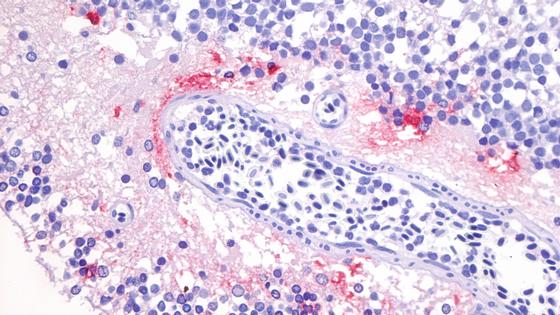 Clinical application: Case Studies
In 2003, VHSV was detected in freshwater muskellunge in Lake St. Clair, MI. The isolate found in the round gobies in NY was genetically identical to the VHSv type IV-b isolate found in MI. The North American VHSV IV-b infects a range of species. This is supported by the fact that gobies and muskellunge have strong genetic diversity. Close gene sequence similarities between the goby and muskellunge isolates may indicate that this is a newly emerging viral strain affecting a naive population. The 2006 mortalities of round gobies may be part of a basin-wide VHSV type IV-b epizootic event affecting multiple fish species. VHSV entry into the river is unknown but possible theories include both natural and human-induced fish movement. This study confirms the virus' presence in US waters and the chance of transmission to other fish species is high. Careful management of major waterways needs to be enforced to prevent further spread of VHSV.
Management: Management of IV-b is primarily accomplished via prevention & control practices. While vaccines are not administered in the wild, spread of the disease in wild populations can be controlled through educational programs that increase public awareness - especially among fishers and boaters. Production systems can manage VHS by the proactive disinfection of eggs with an iodophor, the quarantine of replacement fish, the eradication of infected fish, and through implementation of an effective biosecurity program.
There are many facets implemented in an effective biosecurity program starting with the development of a written standard of operational procedures for health and biosecurity. Personnel should be trained in the operational procedures and frequent training records kept along with the records of all disease events, actions taken, and the results of each case. A fish health program should be put in place that provides diagnostic expertise in disease cases. Prevention should be the main focus in any fish health program. Effective prevention limits movement of new fish onto property and performs health inspections of new fish. Periodic evaluation of the water and facility systems will minimize stressors that may affect fish health.
Ciliated pathogens
Disease of "most fish"
Ichthyophthirius multifiliis
very common. Entire life cycle 2-4wk. Variety of treatments
Monogeneans
Disease of "most fish" (trematodes)
Saprolegniasis
Affects mostly freshwater fish spp. But is a disease of "most fish."
Columnaris/aeromonas sp
Columnaris is the most common flavobacterium. Columnaris spp affect many species of fish. The other two flavo's affect salmon. Many spp of aeromonas affect a lot of fish spp
Vibriosis
Salt water bacteria that affect many fish. Some affect shrimp
Mycobacteria
---
SALMONIDS
Yersinia ruckeri (Enteric Redmouth disease)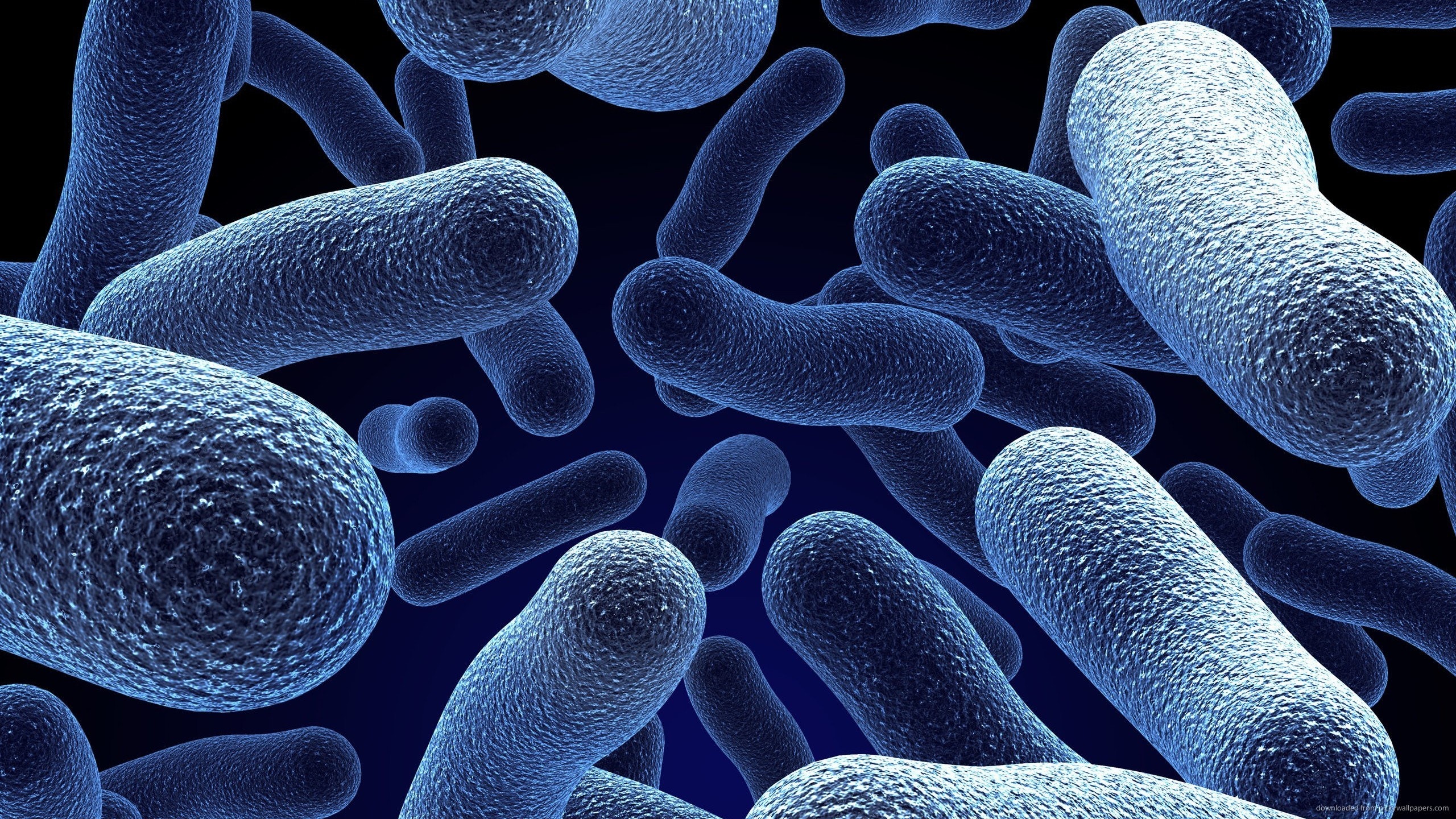 Agent Characteristics: Yersinia ruckeri is a gram-negative, rod-shaped bacterium that is either biotype-1, the motile type, or biotype-2, nonmotile. It is without a spore or capsule but may remain stable in the water outside of the host for approximately four months if sediment and organic matter are present. Y. ruckeri is non-zoonotic and prefers salmon, trout, and char hosts. It was first isolated in rainbow trout hatcheries in idaho in the 1950s. Now, it can be found in Salmonid populations in North America, South America, Australia, South Africa, and Europe.
Transmission: The ability of Yersinia ruckeri to survive outside its host is due to its ability to link with other bacteria to form a biofilm, even on non-organic matter. However, this capability is reduced when Y. ruckeri is present in clean water. Poor water quality is a major factor in the ability of Y. ruckeri to infect fish and is determined through detection of high ammonia levels, low oxygen levels, and the presence of high levels of organic matter. High ammonia is usually due to poor water flow and a dense fish population. Low oxygen is also due to poor water flow but can occur when environmental temperatures are high. Indeed, the highest risk of infection is during summer conditions due to warmer water temperatures and decreased flow. Even if these described conditions are mild, fish may still become infected by Y. ruckeri when under handling stress.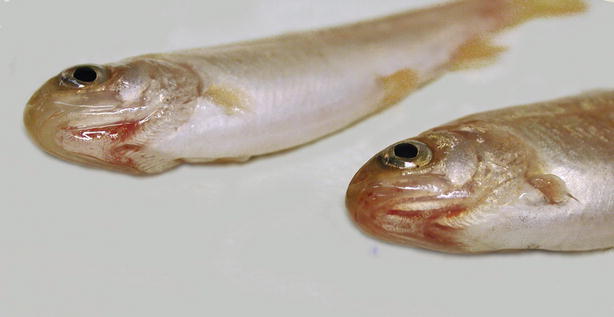 Veteriankey.com - Mandibular hemorrhage in a fingerling trout infected with Yersinia ruckeri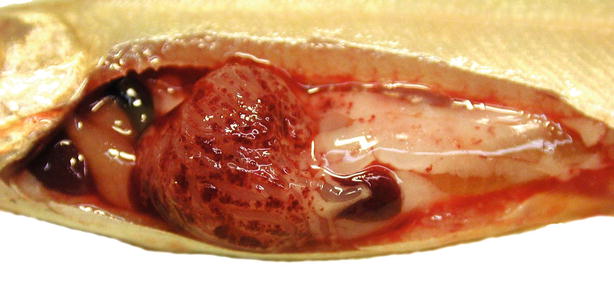 Veteriankey.com - Petecchia in peripancreatic tissues in a farmed rainbow trout infected with Yersinia ruckeri
The route of transmission can be either direct or fecal-to-gill. Direct transmission occurs when stressed fish transmit the bacteria to other fish by direct contact. Fecal-to-gill transmission allows bacteria to be shed in feces, which results in possible exposure to nearby fish. In both direct and fecal-to-gill, the bacterium enters the fish through secondary gill lamellae. Vertical transmission from fish to egg has been suspected but is unproven. Y. ruckeri can infect all life stages of fish, but is most acute in young fish up to fingerling size.
Birds and aquatic invertebrates are known to act as mechanical vectors for Y. ruckeri. These vectors transport the bacteria without being required in transmission or essential to its life cycle. Birds can become carriers by eating infected fish (dead or alive) and then transmitting the bacteria in their feces. Aquatic invertebrates act as a vector in both direct contact with the fish or with their feces.
Pathogenesis: Y. ruckeri enters through the secondary gill lamellae. Since this is where gas exchange occurs, the bacteria is able to enter the bloodstream and then cross at pavement cells via endocytosis. It then travels and colonizes other organs where it causes signs of infection. Y. ruckeri is more likely to be acute in younger fish while older fish contract a chronic condition.
Y. ruckeri has virulence factors to aid in pathogenesis. It releases extracellular products that cause hemorrhagic clinical signs. YhIA factor creates a porin in cell membranes to cause cytolysis and haemolysis. Yrp1 factor degrades both muscles and the extracellular matrix. In addition, Y. ruckeri has an inflammatory agent called Azocasein protease. The major organs affected are the skin, gills, liver, spleen, and kidney. Skin damage materializes as subcutaneous hemorrhages in and around the mouth and throat. The gills become inflamed, with edema and are desquamated. Liver also experiences inflammation in addition to petechial hemorrhages and necrosis. The spleen and kidneys both become inflamed and necrotic.
Diagnosis and Treatment: There are many clinical symptoms associated with Y. ruckeri. Besides mortality, infection causes a dark body color on fish, hemorrhages at the base of paired fins and the vent, and a reddening of the gill cover, corners of the mouth, gums, palate, and tongue. The fish also experiences exophthalmos, orbital hemorrhages, and ascites. Infection can be noted through behavior changes such as reduced appetite, swimming near the surface, or lethargy.
Presumptive diagnosis is obtained via growth of gram-negative, oxidase negative, motile (note: biotype-2 is non-motile), rod-shaped bacteria on bacteriological media. Samples are taken from blood, kidney, or lesions. Confirmation of diagnosis is obtained using an immunofluorescent antibody test (IFAT), PCR, or MALDI-TOF. IFAT shows a strong fluorescence for a positive sample. Different antibodies are used for each of the two strains. PCR is used as the amplification and sequencing of 16S ribosomal RNA using the universal bacterial primers 27F and 1492R. 16S rDNA PCR assay has also been employed to identify or confirm Y. ruckeri in some studies. MALDI-TOF uses mass spectrometry to create a "fingerprint" that can be compared to reference spectra in the MALDI-TOF database.
Prognosis is often variable and depends on the vaccination status of the fish, environmental conditions, and the speed of diagnosis and treatment. Antibiotics in the feed is the most common treatment for Y. ruckeri. Common antibiotics include amoxicillin, oxolinic acid, oxytetracycline, and florfenicol. Because of the narrow range of antibiotics, there are concerns about antibiotic resistance and other possible options need to be considered.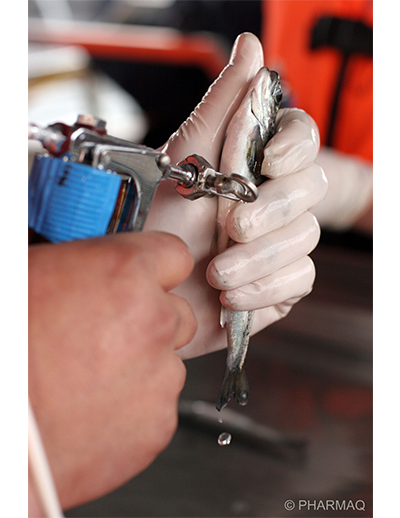 Prevention and Control: Proper management of stocking densities, stress, and probiotics is essential in the prevention and control of Y. ruckeri. An increased stocking density will increase the risk of spreading infection. The size of the holding area and its water filtration system should determine how many fish are stocked in each tank. In addition, stressed fish are more likely to develop disease. Decreasing stress in fish can include maintaining a reasonable stocking density and water quality, decreasing the frequency of handling, and limiting transport. The use of probiotics in farmed trout has been shown to help prevent infection, while also decreasing mortality in fish exposed to enteric redmouth disease. An additional perk is that probiotics are thought to increase the digestibility of fish feed in farmed trout, leading to faster growth rates and healthier fish. Probiotics amplify beneficial bacteria in the gut while enhancing gut microbial enzyme activity.
Vaccinations, whether oral, injectable, or immersion, are also key in preventing infection of enteric redmouth disease. Injectable vaccines are the most effective method overall, but they are not ideal for vaccinating large numbers of small fish. It is a more stressful and time intensive method of vaccine administration since it involves individually injecting each fish with either an intramuscular or intraperitoneal vaccination. Fish are typically injected as fingerlings or smolts. Immersion in a bacterin solution (vaccine solution) decreases stress for fish but requires large quantities of bacterin in the water to ensure vaccination. This method can also be used with a spray application. Oral vaccines, those that are incorporated into the feed, are the most popular choice as it is low stress for the fish and is the least time consuming for staff. There are challenges with using this type of vaccine. It is difficult to determine the correct dose as you cannot measure how much feed is consumed by each fish. This is also not the most efficacious method. The vaccine needs to reach the hindgut to be most effective in creating an immune response. Via the oral route, most of the vaccine is broken down before it can reach the hind gut.
Case Study: There was an outbreak in Croatia during the years 1996-1997. Two rainbow trout (Oncorhynchus mykiss) farms were affected. Notasmallfry Farm raises fry while a nearby farm, Yearofthelings Farm, raises yearlings. Clinical signs in fry at Notasmallfry Farm manifested as inappetence, oral hemorrhages, and discolored skin. In just a short period of time, 20% mortality occurred due to the overcrowding of fry. Fish at Yearofthelings Farm showed different clinical signs. The yearlings were spinning at the surface of the water, they had reddening of their oral cavity, exophthalmia, ocular hemorrhage, and had dark pigmentation with whitening. Unfortunately, frequent rains plagued Yearofthelings Farm. The rise in sediment in the yearling pools caused 10% of the fish population to be lost in just 2 months.
The subsequent fish necropsy selected samples from the kidney, spleen, liver and brain of 30 fry and 20 yearlings. The samples were cultured using tryptic soy agar and blood agar and incubated at 22C for 48 hours. The colonies isolated were confirmed to be Y. ruckeri through antibiotic susceptibility tests. The colonies showed susceptibility to tetracycline, chloramphenicol, nalidixic acid, enrofloxacin, carbenicillin, and gentamicin; they were also found to be resistant to amoxicillin, sulfamethoxazole, penicillin G, and erythromycin. Notasmallfry Farm cultures produced RY-11 serotype while, Yearofthelings Farm cultures produced RY-12 serotype of Y. ruckeri.
The remaining fish were treated with any antibiotics to which they were susceptible, but the health of the fish should also be considered in the decision. The cases here saw a decrease in mortality and illness over time and future prevention as the best treatment. Stress is a significant factor in the initiation of the disease, but vaccination can help prevent the disease even in cases of high stress.
Infectious salmon anemia virus
Infectious salmon anemia virus (Hemorrhagic Kidney Syndrome)
Affects mostly salmonids
By Angela Jackson, Sara Sokolik, Anne Merley, Robyn Montz, Elise Sanchez, Kelli Davis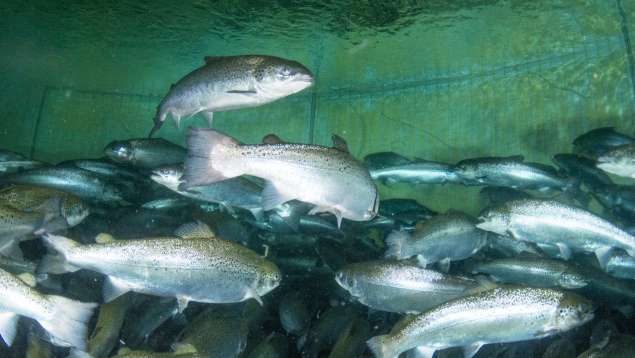 Livingoceans.org - Healthy farmed Atlantic salmon in a tank at the Kuterra land-based salmon farm.
Etiology: The Agent: Infectious Salmon Anemia Virus (ISAV) is the causative agent of infectious salmon anemia. ISAV is referred to as Hemorrhagic Kidney Syndrome, an old name for the disease that is still used interchangeably in the literature. ISAV belongs to the family Orthomyxoviridae and genus Isavirus. It is a 100nm enveloped, single stranded negative-sense RNA virus and is in the same family as Influenza viruses. Not all strains are virulent, the only known virulent strains of ISAV are subgenotypes HPR1, HPR2, and HPR3. Known, non-virulent subgenotypes are HPR0 and HPR00 and are generally specific to Atlantic salmon and other salmonids.
ISAV can be detected by reverse transcription polymerase chain reaction (RT-PCR) assays but cannot be cultured. The main difference between virulent and non-virulent (HPR0) strains are that virulent strains contain deletions in regions of the hemagglutinase-esterase (HE) gene.
Farmed Atlantic salmon (Salmo salar) are those most commonly affected but wild Atlantic salmon may also be susceptible to ISAV. On rare occasions, isolates have been reported to affect other salmonid species. Outbreaks of hemorrhagic kidney syndrome in Canada in 1996 caused high mortalities in hatcheries and it was proven to be the same virus found in Norway. Norway had the first global appearance of ISAV in 1984 which caused mortality of up to 80% in hatcheries. The disease became reportable by 1988. Chile was the next country to see the disease in the 1990's, but it was not described until 2001. Chile is currently experiencing a serious outbreak of ISAV that started in 2007. Scotland is also experiencing historic outbreaks, with the first appearance of ISAV in 1998 and again in 2008. The U.S. has not been spared. ISAV started appearing in 2001/2002 as the virus spread from Canada down through the Cobscook Bay area in Maine.
Transmission: Transmission of ISAV can occur by a horizontal route or through the shedding of the virus. The incubation period for clinical signs to appear is between 2 and 4 weeks. Horizontal transmission via both freshwater and saltwater shows a probable infection through the gills. Ingestion of the virus has not been ruled out. Close contact, fomites, blood and tissue are all examples of horizontal transmission of ISAV. Mechanical vectors such as sea lice are thought to increase the susceptibility of fish to ISAV by increasing stress. Vertical transmission has been posed as a risk, but the idea is controversial as there is currently no evidence in support of true vertical transmission. According to the World Organization for Animal Health (OIE) Aquatic Manual (2015), eggs and embryos could pose risk of transmission when ISAV biosecurity measures are not adequately managed.
There is the possibility of shedding the virus via epidermal mucus, feces, urine, blood and tissues. Viral shedding occurred during a study at Iowa State University by AR Spickler, (Infectious Salmon Anemia, 2011). The fish were inoculated at day 0 and virus became detectable at day 7. The virus was detected at levels above the minimum infective dose by day 11. By day 13, the first death occurred and shedding peaked by day 15. This timeline may vary based on temperature, stress, water quality, population density and other environmental factors.
According to Kibenge et al (Isolation and identification of infectious salmon anaemia virus (ISAV) from Coho salmon in Chile), ISAV replicates best in cold temperatures, where salmon thrive (5-15°C). It is possible that virulent ISAV strains are generated from avirulent strains that circulate among wild salmonids and other species. Wild fish may act as carriers because farmed salmon are not always separated from wild populations and interactions occur. Control of the disease via vaccination and biosecurity focuses on FARMED populations. It is very difficult, indeed, nearly impossible, to eradicate a virus in a wild population.
Clinical Signs: There are many pertinent clinical signs of ISAV. Besides lethargy, fish can experience pale gills, difficulty oxygenating, abdominal distention due to serosanguinous ascites, exophthalmos (abnormal protrusion of the eye), and cutaneous hemorrhage. If there is an opportunity to evaluate blood, severe anemia and leukopenia can be noted.
Gross necropsy reveals edema and hemorrhage of kidneys, splenomegaly, hemorrhagic liver necrosis with abnormal color (dark) and petechiae, petechial hemorrhage of pyloric caeca, mesenteric fat, and swim bladder and there may be dark, hemorrhagic intestines.
Pathogenesis: The pathogenesis of an ISAV infection is generalized and systemic. The virus targets endothelial cells of blood vessels throughout the body. The viral particles bud from the endothelial cells toward the lumen of the vessel and contact red blood cells (RBCs). RBCs are infected with large numbers of the virus and are susceptible to death. Infected RBCs allow dissemination of the virus.
Differential Diagnosis: Other agents cause anemic and haemorrhagic conditions, including erythrocytic inclusion body syndrome virus, moritella viscosa ("Winter Ulcer Disease"), and viral hemorrhagic septicemia virus.
Diagnostic Tests: Methods of diagnosis include gross pathology and viral and serological detection methods. Viral detection methods are numerous and each have pros and cons associated with them. An immunofluorescence antibody test (IFAT) is quick, inexpensive, and highly specific but has poor sensitivity. Immunohistochemistry (IHC) is highly specific but has poor sensitivity. Virus isolation through a cell culture can be highly specific but it is expensive, has a long incubation, and poor sensitivity. RT-PCR is highly sensitive and specific but is disadvantaged by the difficulty in interpreting the results as both live and dead virus can be detected; positive results need to be confirmed by cell culture for the detection of live, infectious virus. Serological methods are usually performed using ELISA for ISAV-specific antibodies.
Preferred samples for submission are kidney and heart. Gills and blood can be used for antemortem diagnosis. Serological tests (e.g. ELISA) have not been standardized for diagnosis/surveillance but can be used as a supplemental test. According to World Organisation for Animal Health (OIE), the diagnostic criteria for ISAV is defined as a suspect case when at least one of the following is met:
Clinical signs/lesions consistent with ISAV

Isolation and identification of ISAV in cell culture

Evidence of the presence of ISAV from two independent laboratory tests (e.g. RT-PCR, IFAT or IHC)
The OIE defines a confirmed case as detection of ISAV in tissue preparations (IHC or IFAT) and one of the following:
Isolation and identification of ISAV in cell culture

Detection of ISAV using RT-PCR
Public Health Concerns: While it does have the potential to ruin livelihoods, there is no known threat of ISAV infection to human health through consumption, contact, etc. The virus becomes inactivated at temperatures of 98.6-104 F and is unable to infect birds or mammals. Canadian Food Inspection Agency declared fish infected with ISAV to be safe for human consumption in 2013. This was a controversial decision and exports of infected fish are still prohibited. The biggest concern is viral mutations and reassortment that could result in more virulent strains (similar to influenza viruses). Eradication efforts require millions of dollars used in compensation, trade restrictions, and mass depopulation of infected fish.
Treatment/Prevention: Currently, there is no treatment and the focus is on control and prevention. Reservoirs for the virus are unknown but experiments suggest other salmonids as well as non-salmonids can carry ISAV asymptomatically which makes prevention difficult. Mortality may start off low but if no control efforts are made, cumulative mortality can reach 90%. Survivors of infection are less susceptible to reinfection. Disease is detected early through periodical screening and sampling of fish. Regular screening can help as salmon can shed virus before mortality rates rise. A commercial vaccine for ISAV is available but the current vaccine used does not offer complete protection in Atlantic salmon. If detected, aggressive depopulation can prevent further losses. It is recommended to clean and disinfect all equipment and boats between nets and sites using sodium hypochlorite, the preferred disinfectant. Limiting stress during reported times of peak mortality (early summer and winter) can mitigate losses. Stressors include temperature of water, time in saltwater, nutrition, and other infections.
Vaccination is part of control programs in several countries and fish are generally vaccinated as smolts prior to their move into seawater pens. Injectable killed vaccines are commercially available, although there are no peer reviewed studies on their efficacy. Vaccines are given intraperitoneal (IP) and can be either monovalent or multivalent. An oral vaccine is currently in development. Experimental studies suggest vaccinated fish have longer survival times. The field results of these studies differ due to the amount of fish, vaccination procedures, and environmental factors.
Control: ISAV is a reportable disease to the OIE and the Area Veterinarian in Charge (USDA - APHIS). All lease sites must be part of a US National Prevention and Control Program in order to be eligible for possible indemnity. Biosecurity is met through separating farms so the virus is not as easily spread. To help eliminate the virus from seawater and any marine life or fomites in the area, allow a rest period for nets and at sites between year-classes (all salmon in seawater during the same year are in the same "year-class"). Sea lice may be important in transmission as mechanical vectors increasing stress. Sea lice can be controlled via medicated baths, in-feed treatment, or use of wrasse and other natural predators of ectoparasites. In addition, farms should only stock a single year-class of salmon.
Case Study: In October 2011, Simon Fraser University of British Columbia, Canada submitted 2 of 48 free-ranging Sockeye Salmon to the Atlantic Veterinary College (Prince Edward Island, Canada). These two fish were SUSPECT positive on PCR for genetic material suggestive of Infectious Salmon Anemia Virus. However, a positive PCR or culture could not be reproduced and no further confirmatory tests were performed.
Infectious Salmon Anemia is considered a foreign disease to the Western United States and Canada. Concerns were raised about how the virus emerged in Canada. The virus usually infects Atlantic salmonids and the tentative explanation was that the virus may have mutated to infect Pacific salmonids (Sockeye salmon). This would have been the first report of ISAV in Western North America from free-ranging pacific salmon and it poses a threat to nearby marine net fisheries in Washington State in commerce, economic and resource management.
To counter the threat of this ISAV outbreak, APHIS held a meeting on December 9, 2011 and started the development of an ISAV surveillance and response plan. Included in the plan is an assessment of existing knowledge of ISAV status in the Pacific NW and a proposed strategy for enhanced ISAV surveillance in both wild and commercial salmonid populations of the Pacific NW. This plan was done in agreements with state, tribal and federal partners for response plans should ISAV be suspected or confirmed in the future.
Although Infectious Salmon Anemia Virus was not confirmed in this case, it is an example of how multiple agencies have to work together during a potential disease outbreak. Since 2011, changes from this case include:
Quarterly sampling at marine Atlantic Salmon Farms

Enhanced surveillance of other salmonids that are potentially susceptible to evolving or atypical strains of ISAV

Improved identification tools- such as a more sensitive PCR assay

Contingency plan for any future possible ISAV outbreaks in the Pacific Northwest
Thankfully, since these measures have been implemented, no trace of ISAV has been found.
Summary: In summation, fish farming has a huge impact on global economy and livelihoods. ISAV is in the same family as influenza virus and not all strains are virulent. Transmission is affected by temperature, population density, stress factors, and water quality. The clinical signs of ISAV include anemia, lethargy, pale gills, and trouble oxygenating. Pathogenesis of infected RBCs allow the virus to spread to multiple organs (kidneys, liver, spleen). The diagnosis criteria for suspicious and confirmed cases are defined by OIE using methods of virus detection such as virus isolation, IHC, IFAT, and RT-PCR. There are no public health risks to humans. Prevention of ISAV is accomplished by periodic screening, vaccination, and through the practice of good biosecurity. Prevention also includes limiting stressors, and depopulation of fish positive for ISAV. Finally, remember that ISAV is reportable to OIE/USDA APHIS and ISAV infections can be controlled via minimizing sea lice vectors and allowing sites to rest in between fish batches.
Viral hemorrhagic septicemia
Aeromonas Salmonicida (Furunculosis)
Targeted species
Streptococcus iniae (Tilapia, warm water)
by Betsy Chisler, Rachel Ganske, Hunter Oppler, Lauren Ryon, Jordan Sanford, and Adam Turner
Streptococcus iniae is an encapsulated, gram-positive cocci that affects wild or farmed fish in both freshwater and marine species - especially tilapia. The disease is diagnosed through observation of neurologic signs such as erratic swimming. S. iniae is confirmed with bacterial isolation and culture. S. iniae causes a rare but serious infection in humans and is transmitted via broken skin. Cellulitis is the most common clinical sign in humans. S. iniae infection can be prevented through maintaining high water quality, using vaccines, and quarantine of infected fish.
History/Etiology: Distribution of S. iniae is most prevalent in the Asia-Pacific region but can also be found in North America and the Middle East. While tilapia are the most susceptible species, S. iniae tends to target warm water fish and can be found in both farmed and wild fish populations. There are 25+ known freshwater and marine fish species affected by S. iniae. Aquatic mammals are also affected, S. iniae was isolated from a captive Amazon freshwater dolphin. While rare, zoonotic infection in humans can be a serious condition that clinically appears as cellulitis.
Clinical signs: The major clinical signs presented in fish infected with S. iniae include anorexia, ascites, exophthalmia, corneal opacity, and petechial hemorrhage. Neurologic signs are characteristic of streptococcus in fish and include lethargy and erratic swimming.
Pathogenesis: S. iniae infects adult fish at or near market weight. It is a semi-opportunistic pathogen and stress increases infection risk. Environmental stressors such as poor water quality (the #1 risk factor), high water temperature, high stocking density, and handling can all induce an infection.
Epidemiology: Primarily, S. iniae is horizontally transmitted through either a fecal-oral route, percutaneously, or it can be waterborne. Stressed, immunocompromised, and unvaccinated fish are especially vulnerable to infection. In addition, there is the possibility for asymptomatic carriers to be present in a population.
S. iniae has several virulence factors that contribute to its environmental persistence. SiM protein binds epithelial cells and aids in phagocytosis evasion, CAMP factor lyses erythrocytes, and immunoglobulin binding is accomplished by both CAMP and an immunoglobulin binding protein. In addition, S. iniae has a capsule for protection from phagocytosis and its C5a peptidase inhibits the complement system of the host.
Diagnosis: A primary bacterial infection can be caused by a number of different organisms. An appropriate differential diagnosis should include the following:
Streptococcosis

Streptococcus iniae

Streptococcus agalactiae
Francisellosis

Francisella noatunensis
Motile Aeromonas septicemia

Saeromonas hydrophila
Columnaris

Flavobacterium columnare
Mycobacteriosis

Mycobacterium species
Secondary infections in fish as a result of poor water quality are caused by ectoparasites such as protozoa and monogenean flatworms, by fungi or water molds, or by viral infections. Because poor water quality is the #1 risk factor of infection, the first step of diagnosis should be a water quality test that looks at temperature, dissolved oxygen, pH range, and ammonia levels.
Case Study: Dr. Ibis is the consulting veterinarian at Sofishticated Farm and was called in because the tilapia were dying. Clinical signs were anorexia, ascites, exophthalmia, corneal opacity, petechial hemorrhage. Neurological signs were lethargy and erratic swimming.
Necropsy suggested a bacterial pathogen with septicemia as the cause of death. External findings included darkened skin, ascites, and a cloudy/opaque cornea while internal findings showed a pale liver, fibrinous epicarditis, and splenic enlargement.
Brain and kidney samples were submitted for bacterial culture and antibiotic sensitivity. Although pathogenic bacteria in fish are usually gram-negative, the lab found a capsulated, non-motile, gram-positive bacteria with cocci arranged in chains. The bacteria was beta-hemolytic and showed antibiotic sensitivity to florfenicol.
Dr. Ibis decided to conduct biochemical testing using API 20® Strep kit to identify the gram-positive cocci. This is done as a series of 20 biochemical tests that differentiates Streptococcus and Enterococcus spp. The results are consistent with genus Streptococcus but not consistent with Streptococcus agalactiae. The test kit does identify emerging pathogens like Streptococcus iniae so Dr. Ibis proceeded using molecular methods to confirm Streptococcus iniae infection. PCR / Gel electrophoresis digest sample DNA with restriction enzymes has primers specific to Streptococcus iniae. 16s Ribosomal RNA Sequencing is the gold standard for bacterial speciation due to the ability to sequence match to a database. Dr. Ibis found a positive match for Streptococcus iniae.
Due to the findings from the sensitivity test, antibiotic therapy using Aquaflor® (florfenicol) was used for treatment of infected fish at Sofishticated Farm. Florfenicol is a broad-spectrum antibiotic, the only antibiotic approved for tilapia, and comes with a 15 day withdrawal time. Aquaflor® was administered in fish feed because immersion methods are prohibitive.
Sofishticated Farm called Dr. Ibis with the good news that the diseased fish were responding well to antibiotic therapy.
Prevention: While treatment of antibiotics in the feed is effective, prevention strategies will be less costly in the long run. Ensuring high water quality is the most important factor in fish health and is maintained through frequent testing and diligent record keeping. Vaccination of fingerlings is recommended, as is sourcing high quality fish that are hatchery-produced and disease-free. Fish should be fed a balanced diet and all new or diseased fish quarantined. Zoonosis can be prevented by removal of spiny fins, refrigeration of raw fish, washing hands, and wearing food prep gloves made of plastic or steel mesh.
Complications: Zoonosis of S. iniae causes a rare but serious human disease. Transmission of the bacteria occurs via broken skin through cuts or puncture wounds. Cellulitis is the most common clinical sign but severe infections may result in bacteremia, meningitis, endocarditis, and toxic shock. Risk Factors are handling infected fish, which may be alive or dead. Aquaculture workers and food preparers are those most at risk, especially if over sixty years of age or have underlying health conditions such as diabetes or HIV.
Control: S. iniae can be controlled through vaccination. Effective vaccine routes are immersion, oral, or injectable. The vaccine can be either inactivated or killed but a new live vaccine is in development - Norvax® Strep Si. Controlling an outbreak is accomplished through immune supplementation and probiotics.
Edwardsiellosis
Mostly concerned with how this pathogen affects catfish. It may also affect ornamental species.
Summary
In conclusion, the general health of fish is highly dependent on stress, environmental factors, and water quality. Aquaculture is one of the fastest growing agricultural sectors globally and is managed using a herd health approach. This approach is similar to terrestrial species management in that infectious disease management and environmental sustainability are two main concerns addressed. Developing and promoting better tools and management practices for fish health could greatly improve the sustainability of aquaculture. When approaching fish health, things to remember from this chapter include the importance of stress and water quality on fish health, the role that opportunistic pathogens play in fish health, and the unique transmission dynamics of pathogens in water. Water quality plays the most important role in fish health, especially in fish farming where the ratio of the number of fish to the amount of space in their environment is limited. The majority of diseases in fish are due to opportunistic pathogens, but the initiating factor is usually water quality followed by poor husbandry/sanitation, handling, and poor nutrition. While a pathogen may be isolated and found responsible for a disease case, water quality testing and management should be the first area of improvement during the treatment plan.